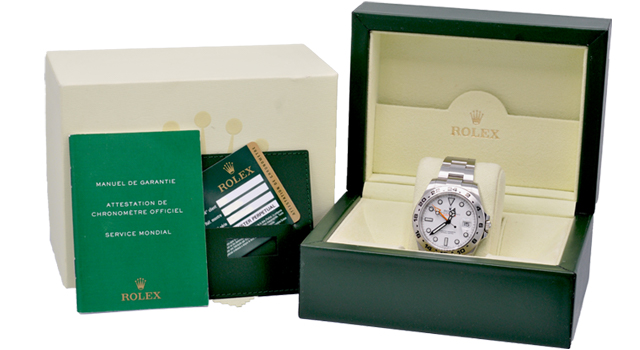 Old Bank Antiques in Royal Wootton Bassett are keen to buy all prestige watches, regardless of age or condition. You'll be assured of a fair appraisal, friendly proffesional service and fast payment.
We buy Rolex, Omega, Patek Phillipe, to name a few
Whilst the majority of this page focusses on selling your Rolex Submariner, we would be delighted to appraise any prestige make or model. Pop-in or give us a call for a no-obligation friendly chat.
Sell your Rolex Submariner
At first it is not something you expect a watchmaker to have an affinity with, but it is one of the most poetic connections that flows through to the very being of Rolex. Water: one of the most tranquil and beautiful, yet disruptive forces on the planet. Rolex embodies the dynamic nature of this element in all its time pieces. The key features Rolex founder, Hans Wilsdorf, required of his watches were simple: they must be precise, waterproof and autonomous. This made the watches durable and reliable, becoming the time piece of choice to many athletes, divers, explorers, pilots and even presidents.
The watchmaker's commitment to product development allows them to consistently erode the inefficiencies of older movements and manufacturing methods, keeping their standards high and their products at the very top of the luxury swiss watch market. Never satisfied with being 'good' at something they have developed a family of watches that can easily perform to Hans Wilsdorf's criteria in the most extreme environments humans can take themselves. Much like water, Rolex finds its way into almost every environment on the planet.
One of the first specialist 'Professional' watches released was the Rolex Submariner in 1953, demonstrating their ability to push the boundaries of watchmaking skills with the first ever watch that was waterproof to the depth of 100m. This pioneering step into the world of diving watches began a legacy that spans decades, has reached ocean floors and broken the boundaries of human endeavour. The reliability of the humble Rolex Submariner made it a favourite among professional divers and members of the armed forces, sparking a cult following. In later years, the world would be introduced to the Sea-dweller and the Deep-sea (a modern reimagining of the experimental watch used during the dive of the bathyscaphe 'Trieste' in 1960). The impressive DeepSea Challenge, which was released in 2012, is waterproof to a depth of 12,000m, a depth I doubt Hans Wilsdorf ever imagined his watches venturing to.
In the same way these watches continue Rolex's legacy of providing accurate time keeping whilst withstanding the immense force of the ocean, Rolex themselves show no sign of buckling under the pressure of a growing luxury watch market. Instead refining their movements, improving servicing, and consistently developing ground-breaking advances in the horological world. It is no surprise that they are the largest Swiss watch brand in the retail market, and I struggle to see another watchmaker who can steal their crown.
The demand for Rolex watches has reached an all time high. Pre COVID-19, the factory was producing the highest number of units per year they have ever made. Demand still outstretched supply and the secondhand watch market saw a surge in prices, and thanks to COVID-19 shutting the factory for a sizeable chunk of last year, I cannot see supply recovering in the immediate future. As a result, if you are looking to sell your Rolex then now has never been a better time. If that is something you are looking to do, I have put together a list of questions you are likely to be asked.
Do you have box & Papers?
This refers specifically to the original box the watch came in, and the official Rolex guarantee. The bonus is if you can produce the instruction manual, original swing tags, and any other paperwork referring to the watch and any interventions it has had. This has one of the strongest influences on what someone is willing to pay for your watch, as provenance is everything in this market.
What condition is your Rolex in?
The best condition the watch can be in, is recently fully serviced by Rolex however this tends to only be in very new watches. Providing the watch is functioning, and the case and bracelet show no obvious signs of damage, then you should be able to command a good price for your watch. The figure begins to decrease dramatically once parts are missing or the watch is in significant disrepair (smashed glass, crowns missing, backs missing etc).
Has the watch been serviced by Rolex or another watchmaker?
Known as an intervention, any work performed on the watch from the date its purchased can drastically affect the value of it. Much like the difference between selling a 10-year-old car with full dealer service history as opposed to selling a car that has only seen your local mechanic once. An intervention includes anything from adding extra links, swapping dials to a full service. In an ideal world a Rolex authorised dealer (AD) would have performed all these interventions, however it is not uncommon for highly skilled watchmakers to perform them to a relatively good standard. There is nothing wrong with this, but it does help to disclose this to potential purchasers because it will help them decide how they maintain the watch in the future. When Rolex receive watches that have experienced an external intervention such as a full service, they will usually quote to replace all the nonstandard parts, non-rolex lubricants etc and this can create a very hefty bill.
Has the watch been modified?
This is a big one. I suppose you could class it as an intervention, but this is slightly more of a polarising subject. A modification is any non-rolex manufactured change to the appearance of the watch. The most common one I see is the addition of diamonds or gemstones to a bezel or dial. It is entirely up to the owner of the watch what they choose to do to it, but I will warn you; once the modification has taken place Rolex will not perform any interventions on the watch until it is put back to its 'factory settings' so to speak. Again, there are legitimate reasons for this, for example if a non-standard glass is fitted to a Deepsea and Rolex were to perform a pressure test on it the chances are your watch would explode as the glass will not have been developed to withstand the sheer pressure the Deepsea is tested to. Rolex develops its parts to work together to an extremely specific standard, so if that is changed then it could have knock on affects to the wear of the watch. However, you can overcome this by simply requesting to keep the parts that are removed during the modification, such as old bezels or dials, this will help with the resale value. It boils down to this: Rolex are more valuable long term in the original configuration they were sold in.
What are you hoping to get for your watch?
Be realistic with this figure and do your research. What you see sites selling watches for is NOT what you will be paid. These are ticket prices and there is almost always a little bit of negotiation room. Plus, remember it will fall on the buyer to undertake any repairs or servicing to your watch which will factor into what someone is willing to pay. A full overhaul can run into the thousands if the watch is in poor condition. The inflated prices of the professional models (sports models) is as a result of the supply of watches to market vs the demand. Rolex are aware of this and will no doubt at some point in the future find a way to overcome this without compromising their brand standards. If a 2020 steel Daytona is worth £25,000 then Rolex would charge that much for one. When you buy a second-hand Daytona you are paying the luxury of skipping the often-lengthy queue. The ongoing pandemic will have halted production for a considerable portion of the year so I cannot see the preowned watch market prices changing too drastically as demand remains high and supply remains strained, however the average middle-aged Rolex, even without box and papers, will still fetch you a couple of thousand.
With almost 9 years' experience at a Rolex Authorised Dealer and 11 years' experience working with high end swiss watches, I have the experience to offer you a fair and professional appraisal of your watch if you wish to sell.